About Createch Group: Props, Joinery & Kiosk Experts
The Createch Group is a leading UK based retail display company that specialises in designing and building world class display platforms for a wide range of retail environments and events.

From its Halifax base in West Yorkshire, The Createch Group, incorporating Createch Props, Createch Joinery and Createch Kiosks is ideally located within the United Kingdom for easy, cost effective access to any location nationwide.

The modern, purpose build premises is equipped with the very latest technology and manufacturing machinery including jumbo CNC machines, edge banding, laminating, slot routing and precision beam saws.
The Createch Group are also specialists in liquid spray paint application using manual and automatic wet spray methods. On site they are equipped to provide anything from highly polished chrome, soft touch and distressed looks to ultra realistic concrete effects. Two pack spraying for functional and cosmetic finishes is also possible all on a variety of materials including MDF, wood, metal, glass and all types of plastics.

The Createch Group are the solution to your retail display needs.
MADE IN BRITAIN
Only the best manufacturers in the UK are selected to carry the Made in Britain marque.

As a member of the Made in Britain organisation, The Createch Group has a strict Code of Conduct to adhere to which can reassure any new clients that they will receive only the very best service and products.

As a member, The Createch Group has a responsibility to ensure that their products, wherever possible, are products made in Britain, to the highest quality, represent value for money, are safe for anyone that uses them and that throughout the process the highest business standards are always adhered to.

A company who is a member of Made In Britain is a company you can trust.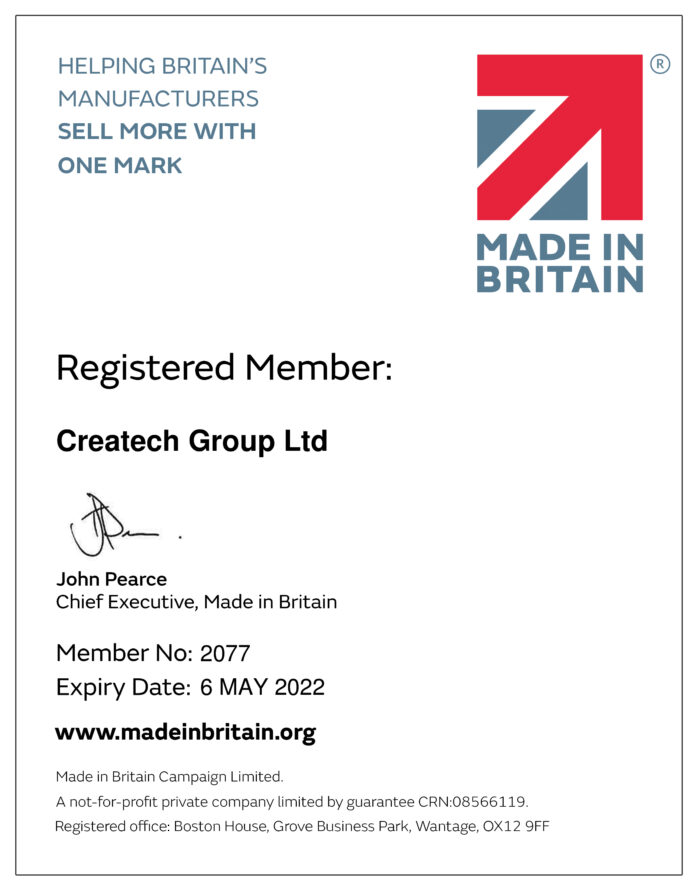 MEET THE DIRECTORS
The Createch Group is owned and managed by the husband and wife team of Steven and Katie Jowett.

Managing Director Steven has a proven track record of successful operational, manufacturing and project management experience from years working within the manufacturing sector. Steven's vast wealth of knowledge ensures all jobs are produced using the most suitable, cost effective materials and manufacturing processes, guaranteeing the best quality finish, on time and on budget.

With years of hands on creative experience, from prop making to spray painting, sculpting to display installation, Creative Director Katie applies her wealth of knowledge and skills to ensure all design projects are completed to the very highest standards by her creative team.